A Passion for Fantastic Worlds.
Welcome to my little corner of the internet. I've been a fan of fantasy and science fiction stories for as long as I can remember, having started – like so many others – with Lord of the Rings and classic pen & paper RPGs. As a cartographer, I make maps for authors, publishers, game developers and producers for both fantasy and science fiction projects. And I can do it for you, too!
I am available for Commissions.
Whether it's a map for your novel, the epic setting of your D&D campaign, battlemaps, or a smuggler's hide-out in a giant red star's asteroid belt – I want to share my creativity with you, and bring life to your ideas. So please don't hesitate to contact me with your project!
My Experience.
For more than half a decade I have helped publishers, authors, or simply people like you and me who wanted to bring their role-playing group's campaign to life by drawing their worlds for them, the way they see them. Almost everything you'll find here has been uniquely hand-drawn using nothing but a Wacom Intous tablet & my imagination, building upon years of experience.


The rates displayed below concern projects for private use, ie. for your tabletop group or for VTT use without the intent to publish them for financial gain. If you want a map for a commercial project, be advised that by my FAQ and Terms & Conditions the base price increases by 30%
Projects demanding larger sizes and/or more details – and thus, more work – will be priced accordingly. Prices are derived from the average expected working hours on the project. In either case, please go ahead and contact me with details for a personal quote adjusted for your project.
Notice (Sept. 24, 2022): Please note that due to rising inflation and crippling energy and heating costs where I live prices have been adjusted accordingly. The adjustment does not concern commissions for which the down payment has already been made and/or agreed on. For these the old prices are still applicable.
BLACK & WHITE MAPS
€ 200
Continent/World/Regional Map

Black & white / grayscale

300 dpi

Simple border

Simple Icons

Sized up to 9×12″ (book sizes)
FULL COLOR MAPS
€ 320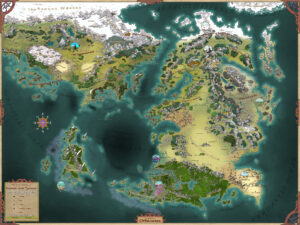 Continent/World/Regional Map

Full color

300 dpi

Simple border

Simple Icons

Sized up to 9×12″ (book sizes)
TOWN & CITY MAPS
€ 200 (Black & White) / € 320 (Color)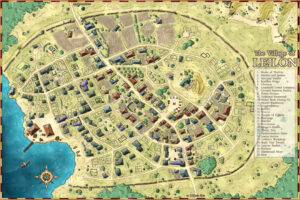 Village/Town/City Map

Black & white/grayscale/color

300 dpi

Simple border

Top-down view (rooftops)

Sized up to 9×12″ (book sizes)
SCIFI & SPACE MAPS
€ — project specific

Planet/Star System/Other

Full color

Digital or print-ready (300 dpi)

Simple border

Simple Icons
ENCOUNTER/BATTLE MAPS
€ 180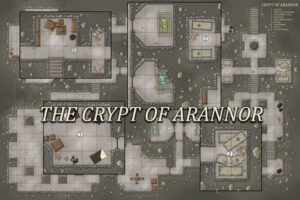 Encounter/Battle Map

Full color

VTT and print-ready (300 dpi)

up to 24×24 inches

Top-down view